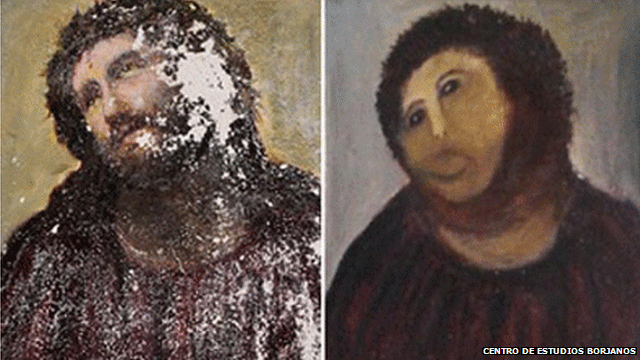 Now when the apostles at Jerusalem heard that Samaria had received the word of God, they sent to them Peter and John, who came down and prayed for them that they might receive the Holy Spirit.
Acts 8:14-15
Have you ever seen something of priceless value? Have you seen the priceless perverted?
Borja, Spain is home to a perversion of the priceless. Ecce Homo (Behold the Man by Elias Garcia Martinez, pictured above on the left) is a 125-year-old fresco depicting Jesus inside the village church. Due to the destructive effects of moisture over the previous century, the fresco began to flake and peel. However, one of the church's elderly members decided to restore the priceless work of art. Without seeking approval from the priest or bishop, she took it upon herself to touch up the flaking paint (pictured above on the right). Paint and plaster are no longer peeling, but the transformation is so drastic that Ecce Homo has been renamed Ecce Mono, which is translated Behold the Monkey.
Perversion is profitable. Art is considered priceless because it is beyond value, but what is Ecce Mono worth? Since the "restoration", tourists have flocked to behold the monkey fresco and the church, sensing opportunity, began to charge admission. Not to be left out of the profits, the elderly artist reached a profit sharing and marketing agreement worth forty-nine percent of the revenue generated by ticket and merchandise sales. Apparently, there is a lot of money in monkeys!
His Promise is priceless. Jesus promised the Apostles, "You will receive power when the Holy Spirit has come upon you, and you will be my witnesses in Jerusalem, and in all Judea and Samaria, and to the end of the earth." The Church received power—priceless power—in the person of the Holy Spirit. He is priceless because He is God, but the price of the redemption He applies is measured in the blood of Christ Jesus.
Priceless is profit. Dr. Richard Pratt gave us budding pastors many wise sayings during my seminary days. One I have never forgotten is, "Be careful if you make your living by your faith that you don't lose one or the other." As we will see in the next few weeks, Simon the Magician, like many so-called prophets of our day, attempted to make his living more profitable by purchasing Jesus' power. We are living at a time at odds with Pratt's principle and Acts 8. Re-presenting Jesus always carries with it the danger of perversion. For the sake of nickels and noses, how often have we painted over the Priceless and restored the Redeemer? When we do, the result is neither priceless nor redemptive.
The Church and the world don't need to behold a monkey; they must "Behold the Man!"