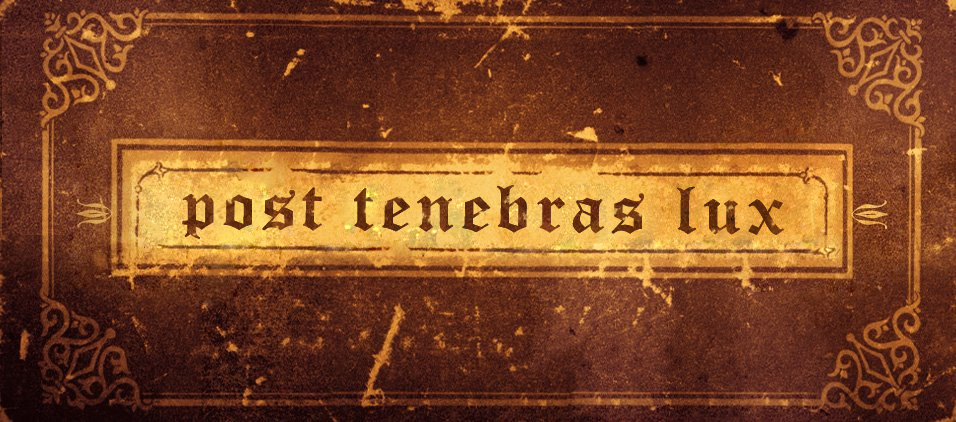 And we know that for those who love God all things work together for good, for those who are called according to his purpose. For those whom he foreknew, he also predestined to be conformed to the image of his Son, in order that he might be the firstborn among many brothers. And those whom he predestined he also called, and those whom he called he also justified, and those whom he justified he also glorified.
Romans 8:28-30
Dear Readers,
Over the years, one of the questions I have been repeatedly asked is, "How did you become convinced about Reformed Theology?" There are really two answers to that question.
The groundwork was laid by my father who is a pastor and taught the "Doctrines of Grace." Even before I was aware of it, I was under the influence of A.W. Pink and Dr. John MacArthur in the exegetical preaching of my dad. I did not grasp enough of what was going on to apply the label "Reformed" to myself nor do I remember being aware of it. However, when I was eighteen years old Reformed Theology came to me through a scriptural and theological crisis.
I was a student at Liberty University and thought of my theological home as "Baptist" without any more qualification than "Independent". One day in chapel, a professor spoke to the student body from the text of Romans 8:28-30. When the speaker explained the word "predestined", he expended great effort to make the word mean something other than what the context indicated. There was very little or perhaps no textual evidence from the rest of scripture offered to us. In the end, the speaker said, "God looked down through the corridors of time and knew who would choose Him and those He predestined." That statement caused a lot of dissonance within my soul.
Later that day, I was in a class where the professor openly attacked the doctrines of election and predestination by saying those that believed in them denied free will but offered not much more than John 3:16 as support. The dissonance grew louder.
By the end of the day, I found myself alone in my dormitory, pacing around the room with my NASB Study Bible open to Romans 8. I read the chapter a few times, looked up all the cross references, and read through every footnote. The longer I meditated and prayed over the text, the more troubled I became by what was said in chapel and class earlier that day. In addition to Romans 8, there are an abundance of scriptures which indicate God chooses His people, even before the foundation of the world (Deuteronomy 7:6-7, Psalm 78:70-72, Isaiah 44:1-2, Jeremiah 1:5, Matthew 22:14, 24:31, John 15:19, 17:2-6, Acts 2:23, 13:48, Romans 1:6, 9:7-33, 11:1-36, Ephesians 1:4-5, 11-12, 2:8-10, 1 Peter 1:1-5, 2 Timothy 1:9).
The door to my room was open and Bruce, one of my neighbors, stopped in to ask what I was doing. I wondered what he thought about the chapel sermon and explained my struggle. He smiled and almost whispered as if he were letting me in on a big secret, "My dad is an Orthodox Presbyterian Pastor." I failed to see the connection, but Bruce patiently explained the Biblical doctrine of predestination as "the historic position of the Church." While Bruce was flipping through my Bible and talking about "the Doctrines of Grace", another student named Scott came in the room and seconded everything Bruce was saying. Thinking aloud I said, "I wish I had a sermon series by someone I trusted to lay this all out for me." Scott responded by telling me that he had just returned from his mailbox where he had received a yet unopened six-part sermon series by John MacArthur titled, "Predestination: The Most Hated Doctrine of the Church". Over the next few days, I devoured those sermons unlike anything before. The scripture came alive in a way which is difficult to explain and Christ himself was more glorious to my eyes.
Not all my fellow students were as excited by my "new revelation" as I was. In fact, I remember one evening when Bruce, Scott, and I were discussing these matters in my room, and within minutes our happy little theology fest was filled with angry voices defending "free will" against our "heresy". Accusations were made by our detractors who said that believing in predestination instead of free will would cause a whole host of problems, not the least of which was destroy our motivation to fulfill the Great Commission. During a phone call from my father the next morning, he explained that our motivation for the Great Commission is obedience to and love for the Great Commander. Additionally, he pointed out that Church History abounds with men and women who believed in the Biblical doctrine of predestination who were also given to evangelism and world missions. My personal theological crisis was over.
The events at Liberty University occurred almost thirty years ago and while the doctrine of predestination is a settled matter for me, I know many for whom it is not. Debate still rages throughout Christendom over free will and I am by no means an expert in these matters. However, a recent video release from Ligonier Ministries features Dr. R.C. Sproul speaking with great authority to these questions I first encountered as a university student so many years ago. A link to the video "Why We Can't Choose God" is provided HERE.
Meditate on Romans 8:28-30. Pray for illumination. Read some or all the verses hyperlinked above. What does scripture say about election and predestination? What do you believe about salvation? Do we choose God or does God choose us?
As a final thought, let me express why I love the Reformed Doctrines of Election and Predestination. To put it simply, believing God chooses us destroys human pride. We can boast in nothing–not our works, faith, religion, and certainly not in our choosing Him! In God's own words, "I will be gracious to whom I will be gracious, and will show mercy on whom I will show mercy." Our boast is in Christ alone.
For Christ and His Kingdom,
Pastor Toby