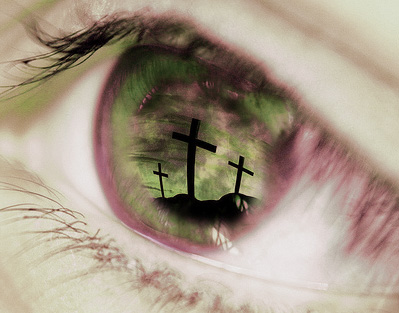 Then the Lord said to him, 'Take off the sandals from your feet, for the place where you are standing is holy ground. I have surely seen the affliction of my people who are in Egypt, and have heard their groaning, and I have come down to deliver them. And now come, I will send you to Egypt.'
Acts 7:33-34
Do you remember those three-dimensional posters which were featured in shopping malls several years ago? As a ubiquitous part of the shopping mall landscape, patrons would patiently peer into display windows while enlightened companions asked, "Do you see it yet? Can you see the rocket? Did you see the dolphin?" Suddenly and magically, the furrowed brows of mesmerized mall rats would soften and rise like silken blue skies illuminated with the warm light of dawn: "Now I see it—you have to look through the poster to see the images!" When the eternal Word became flesh, God was revealed in three dimensions. Have you seen Him or are you still looking through a dark glass?
Moses saw. While he was tending Jethro's sheep in the Midianite wilderness near Mount Sinai, Moses' eighty-year-old eyes witnessed an amazing revelation of God. Theologians refer to the burning bush as a theophany, a visible manifestation of God's glorious presence. When God spoke, He identified Himself as the God of Abraham, Isaac, and Jacob. Out of fear and reverence, the shepherd hid his eyes and removed his sandals because he was standing in a holy place, before a holy God. In many Eastern cultures, it was customary to remove the sandals before entering a sanctuary to worship one's god. Even idol-worshipping pagans understood that a threshold between the secular and sacred was being crossed and proper respect must be demonstrated. How can we, as worshippers of the living God, know when we've truly been in His holy presence? The experience strips us of our filth and makes us holy. But there's more to the experience than our seeing. Moses saw God in a burning bush and worshiped Him; the Sanhedrin saw God in a man and crucified Him. Both saw God, but only one responded in faith. How have you responded to the revelation of holy God in Jesus Christ?
God saw. Moses saw God, but what did God see? He saw "the affliction of my people", He "heard their groaning", and He came "down to deliver them". God is never blind or indifferent to the suffering of His people, not in the Old Testament nor in our time. However, it wasn't affliction alone which caused God to act. Certainly, many other peoples in human history besides the Hebrews have been painfully subjugated. Why did God take special notice of the events in Egypt? Because they were God's people ("my people"), the children of Abraham with whom He had a covenant (Genesis 12:1-3, 15, 17). God established a unique relationship with a particular people and set His loyal love (hesed, Lamentations 3:22-23) on them. In the New Testament, God promises the Church that those who believe in Jesus Christ have had the same loyal love of God set upon them (Galatians 3:4-9, Romans 8:31-35). Because God loves us loyally, He sees our afflictions, He hears our groaning, and He will come to deliver us.
The Sanhedrin didn't see. Despite all that God revealed in His Word and through His Son, the leaders of Israel saw none of it. They refused to believe Jesus was the Son of and Messiah of God. Nevertheless, Stephen preached a very nuanced Gospel. His subtle suggestion was that just as Israel had suffered under the harsh hand of Pharaoh, so also Israel was suffering under hard hearts of the Sanhedrin. Through his Spirit-inspired sermon, Stephen revealed Jesus, like Moses before Him, as God's rejected rescuer. But the Sanhedrin didn't see it that way (Acts 4:1-22).
What do you see when you look at Jesus?
A few years ago, I read a book titled One Way Love: Inexhaustible Grace for an Exhausted World. The author/pastor was an acquaintance of mine while we were in seminary. About a year after the publication of his book, he had a moral failure and was removed from his church. In the years following, he's had a few more setbacks and the impact on Christendom has been multiplied by his celebrity status among Evangelicals. Perhaps it may be considered unwise to quote such a person in a devotional article like this one. However, within the context of "failure to see"—by the Sanhedrin and by my fallen friend—his words shine more vividly: "The Bible isn't a record of the blessed good, but rather the blessed bad…The Bible is not a witness to the best people making it up to God; it's a witness to God making it down to the worst people…The Bible is one long story of God meeting our rebellion with His rescue, our sin with His salvation, our guilt with His grace, our badness with His goodness" (emphasis mine). Friends, that's not just the Bible; that's the Gospel! The same good news revealed to Moses long ago has been revealed, in these last days, through the Son of God.
Do you receive or reject Christ Jesus as He has been revealed in the Gospel?