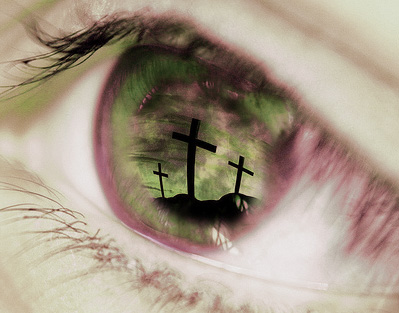 [Moses] supposed that his brothers would understand that God was giving them salvation by his hand, but they did not understand. And on the following day he appeared to them as they were quarreling and tried to reconcile them, saying, 'Men, you are brothers. Why do you wrong each other?' But the man who was wronging his neighbor thrust him aside…
Acts 7:25-27a
Have you ever known a person who suffered from blindness? If so, you have undoubtedly recognized that the simplest little things can become painfully complicated when a person cannot see.
Many years ago, a pastor and a deacon took a blind parishioner out to lunch. Despite her difficulties, the aged and faithful Mrs. Todd seldom spoke and never complained. When the food arrived at their table, the saintly senior wrapped her sandwich in a napkin and slowly began to eat. Church business so engrossed the men that they lost track of time and what was happening with their lunch guest. After the meal, they were both horrified to see that Mrs. Todd had eaten her whole sandwich—and napkin! Because of her disability, Mrs. Todd could not see her sandwich, but because of their depravity, sinners will not see the Savior.
Moses was misunderstood. The Sanhedrin accused Stephen of blasphemy against Moses, so in his defense-by-sermon, he cited the Law-giver. Moses' first attempt at public ministry ended in disaster. One day, while watching his people languishing in slavery under Pharaoh's brutal taskmasters, Moses witnessed an Egyptian mercilessly beating a Hebrew. He intervened and killed the abuser. The next day, Moses was again observing his people when two of his fellow Hebrews began to have an altercation. Moses asserted himself and attempted to reconcile the men and thought that his "brothers would understand that God was giving them salvation by his hand". Because of their envy-driven blindness, the Hebrews couldn't see Moses. Blinded by their power and tradition, the Sanhedrin wouldn't see the Savior.
Moses was misjudged. God is sovereign over everything, even the angry misperceptions of unbelievers. "Who made you a ruler and judge over us? (emphasis mine)", the miffed men asked Moses. The stinging sarcasm of Moses' "brothers" reminds us of a similar event when Joseph's brothers asked, "Are you indeed to rule over us?" (Genesis 37:8). In both cases, God's salvation and the inability of observers to perceive it was at odds. Moses would, in fact, reconcile the people as a ruler and judge over all Israel, but not for another forty years. At the right time, Moses would testify that Yahweh had sent him to lead Israel out of Egypt to worship God at Sinai. Because of misperception, his own brothers couldn't see Moses.
Moses was a mediator. A mediator is an advocate who stands between two parties in conflict bringing them together in peaceful reconciliation. Because we are sinfully separated from God, we must be forgiven and brought back into fellowship with Him. Moses reconciled the people to each other (Exodus 18:13-27) and he also reconciled the people to God (Exodus 32:7-14, 30-35). There is no salvation without reconciliation and there is no reconciliation without a mediator. Moses was a great mediator, but Christ Jesus is the greater Mediator through whom God reconciles the whole world (2 Corinthians 5:17-19). Moses came as a prince but pointed to Jesus who came as a pauper. Moses reconciled Israel by giving the Law. Jesus reconciled the elect by giving His life (Hebrews 9:15, 12:22-24). In the darkness of Golgotha, the angry mob couldn't see the Messiah mediating hell.
Mediation is major. How important is the reconciling work of Christ our Mediator? Sometimes Christians erroneously say that because of Jesus' death on the cross, we have direct access to God. It must be observed that our access to God is "through Christ" (Ephesians 2:18) who opened the curtain through His flesh (Hebrews 10:19-22). Jesus taught us to pray in His name emphasizing His role as our Mediator before the Father (John 14:13). Our Savior is at the King's right hand in continual prayer for His people (Romans 8:33-34). We come boldly to the throne of grace and find help because Christ is waiting there for us (Hebrews 4:16). Because our God is "holy, holy, holy", we thank Him that we have Christ Jesus as Mediator. By "the light of the knowledge of the glory of God in the face of Jesus Christ" we are made to see our Mediator.
Dr. Ligon Duncan observes, "Hell is eternity in the presence of God. Heaven is eternity in the presence of God, with a Mediator."
How do you see your eternity—mediated or unmediated?