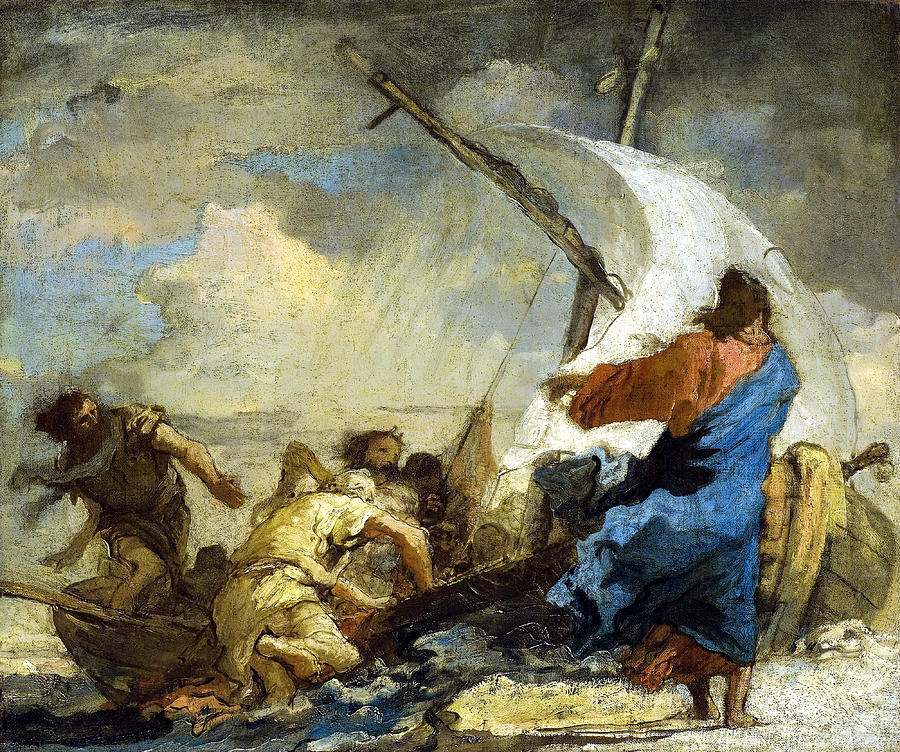 And the patriarchs, jealous of Joseph, sold him into Egypt; but God was with him and rescued him out of all his afflictions and gave him favor and wisdom before Pharaoh, king of Egypt, who made him ruler over Egypt and over all his household.
Acts 7:9-10
One of my early jobs was working as an emergency road service dispatcher for the American Automobile Association (AAA). Every day, people in need of rescue would call me and it was my responsibility to provide club members with the assistance they required. However, sometimes due to inclement weather, road conditions were so hazardous that authorities would not allow even the mighty AAA to travel the highways. On those occasions, it was my regrettable duty to inform stranded callers that we were not able to send assistance or else the rescuers would also need to be rescued.
Providence sometimes sends rescuers out onto dangerous highways requiring the rescue of God himself.
As a matter of his defense against the charge of blasphemy, Stephen gave the Sanhedrin a history lesson. Using Old Testament patriarchs as examples, Steven argued that God's rescuing grace extends outside Israel, even "to the end of the earth". When he was an idol-worshipping pagan in Mesopotamia, Abraham was rescued by God's call. But what about Joseph, son of Jacob?
Joseph was resented. Stephen reported that the patriarchs were "jealous" of Joseph. However, some versions (New King James) use the word "envious" instead of "jealous". What is the difference in jealousy and envy? Jealousy is when we covet what someone else has. Envy is when we desire that a person loses something they have which we covet. Envy says, "If I can't have it, neither will she." Envy can be violent and, at times, borders closely on hate and even murder. Jacob loved Joseph and treasured him as his first-born by Rachel, but his brothers so despised him for it, they considered killing him (Genesis 37:3-4, 18-20). They didn't simply want what Joseph had, they didn't want Joseph to have it either. Their envy gave way to betrayal and violence. But Providence overrules our resentments.
Joseph was resisted. Having barely ruled out murder, Israel's patriarchs banished Joseph by selling him into Egyptian slavery (Acts 7:9). Once again, Stephen asked a historically-driven theological question, "Despite the envy of our nation's fathers, did God's blessings reach beyond our land to Joseph in Egypt?" His reading of their history exposes a shameful truth: Israel was founded on men who resisted God, and sometimes violently so. Stephen's stinging implication is that the political leaders of Israel in his time are guilty of the same sin and unbelief as the patriarchs—hatefully resisting God. But Providence is stronger than our resistance.
Joseph was rescued. Reversals in scripture are often introduced with the simple expression "but God." In Joseph's case, the patriarchs were envious and sold him as a slave "but God rescued him…and gave him favor…before Pharaoh." After more than twenty years in Egypt, Joseph explained to his brothers, "God sent me before you to preserve for you a remnant on earth, and to keep alive for you many survivors. So it was not you who sent me here, but God. He has made me a father to Pharaoh, and lord of all his house and ruler over all the land of Egypt." (Genesis 45:7-8). Joseph was God's rescued rescuer. Providence rescues and raises the one we reject.
Jesus was resented. He was envied by everyone from Satan to the Sanhedrin (Matthew 4:1-11, Mark 14:53-65, John 18:28-40). Every political and religious leader of his day hated Christ for his divine authority. Throughout history, the power hungry have often attempted in vain to denude the Lord Jesus of his divinity. Lest we should think times have changed, Jesus is still resented.
Jesus was resisted. He was betrayed and sold by a friend into the hands of sinful men (Matthew 26:14-16). How many of Jesus' "friends" have traded on his name for wealth and power by preaching false gospels which violently resist God's kingdom? Lest we should think times are changing, Jesus is still resisted.
Jesus was rescued. "But God" reversals seem to define the Gospel. Jesus was betrayed into the hands of wicked men, crucified, died, and buried, "but God raised him from the dead" (Acts 2:22-24) and "seated him at his right hand in the heavenly places, far above all rule and authority and power and dominion, and above every name that is named, not only in this age but also in the one to come (Ephesians 1:19-21)." Jesus Christ was God's Rescued Rescuer, and He still is!
Stephen, the outsider, the Greek-speaking Jew, read the history of Joseph into the story of Jesus for the Sanhedrin. His application can be boiled down to a simple Gospel principle: God's grace is more abundant and powerful in the world than man's sin. The cross represents the greatest tragedy in man's dealings with God but at the same time the greatest triumph of God's dealings with men. Jesus was rejected by man but accepted by God. What man meant for evil, God meant for good (Genesis 50:20)! By grace, God rescues those on the outside, even when road conditions are hazardous.
Grace is found in strange places. The film Christmas Vacation has become a holiday classic and one of my favorite popular commentaries on grace. In the middle of the film, the entire extended family of Clark Griswold descends on his home to celebrate Christmas. As dinner is served, Clark asks his comically hard-of-hearing, eighty-year-old Aunt Bethany to "say grace". When she fails to understand, another relative loudly shouts "Grace" to which the aged aunt replies, "Grace, she died thirty years ago."
When Jesus commands—and when sinners ask—us to "say grace", do we respond "Grace, she died thirty years ago?" The Sanhedrin did.
Grace rescues what sin destroys and it's a good thing too because, with so much destruction in the world, we need a lot of rescuing. By the grace of the cross, He is rescuing His rescuers.